Change Agent Issue 45: Career Pathways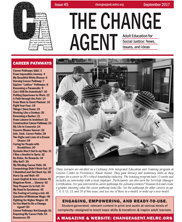 Students have a lot to say about career pathways, and we are proud to share their perspectives in this first-ever exploration of the topic from a student point of view. Hear what they have to say about the challenges and opportunities they face as they work to achieve their goals, share their hopes and moments of regret as they learn and grow from their sometimes twisted path toward a career. Hear from young people just starting out, older students switching careers, highly skilled immigrants who need new credentials, and those for whom available career pathways don't quite align with their dreams.

This document compares pathway maps, lattices, and roadways as well as study graphs and charts that encourage critical thinking about job prospects. Support your students to pursue research that will teach them about jobs and careers, as well as how to connect with resources. World Education, 2017.