SABES Math Bulletin: Building Research Into Practice, Volume 4, Issue 1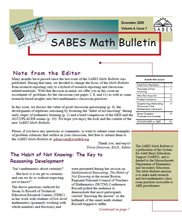 This issue of the SABES Math Bulletin moves from a focus on research reporting only to a hybrid of research reporting and classroom related materials. With that decision in mind, we offer you in this issue an assortment of problems for the classroom as well as some research-based insights into best mathematics classroom practices.

In this issue, we discuss the value of good classroom questioning, the development of algebraic reasoning by fostering the "habit of not knowing" during early stages of arithmetic learning, and a brief comparison of the GED and the ACCUPLACER exams. We hope you enjoy the look and the content of the new SABES Math Bulletin. World Education, 2009.

Download (PDF, 1.22 MB)