SABES Math Bulletin: Building Research Into Practice, Volume 3, Issue 4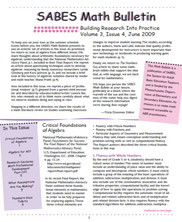 To keep you on your toes as the summer schedule looms before you, the SABES Math Bulletin presents to you an eclectic set of articles in this issue. As promised, we return to look at algebra from different lenses. We share thoughts about arithmetic foundations necessary for algebraic understanding that the National Mathematics Advisory Panel, p.1, included in their Final Report. We reprint an article about questioning techniques used to develop algebraic reasoning by family numeracy researchers Lynda Ginsburg and Kara Jackson (p. 3), and we include a brief look at the history of algebraic notation shared by reader and math teacher, Shana Frank (p.4).

Also included in this issue, we reprint a piece of 'professional wisdom' gleaned from a parent-child encounter and described by educator/editor/writer Lenore Balliro, who reminds us all to think more carefully about what we observe students doing and saying in class. Stepping in a different direction, we share the results of a math literature review on studies examining classroom changes to improve student learning. The studies, according to the authors, indicate that quality professional development for instructors is more important than new technology or textbooks in producing learning gains for math students.

Finally, we return to The Numbers Guy article to share some math-brain tidbits that support the idea that, as with language, we are hard wired for mathematics. We hope you peruse the SABES Math Bulletin at your leisure, preferably at a beach where the warmth of the sun and the coolness of the water help you digest all the research information we're sharing. Bon voyage! World Education, 2009.
Download (PDF, 673 KB)