Adult Transitions Longitudinal Study: Final Report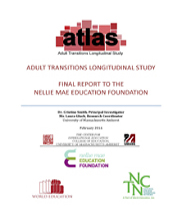 The Adult Transitions Longitudinal Study (ATLAS) was a longitudinal study of 227 adult students who entered one of 11 ABE-to-College transition programs in fall 2007 or spring 2008 in order to prepare to enroll, persist and succeed in post-secondary education.

This mixed-method study, funded by the Nellie Mae Education Fund and implemented by the University of Massachusetts Amherst, World Education and the New England Literacy Resource Center, used annual questionnaires and interviews over five years to collect data on the educational trajectories and college outcomes of all participants and on the individual, transition program and college factors related to those outcomes. World Education, 2016.
Download (PDF, 3.55 MB)