Professional Development Offerings 2017-18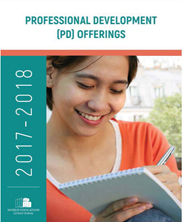 World Education is a national leader in the United States in designing and providing professional development and technical assistance for adult education and has developed, led, and collaborated on numerous local, regional, and national capacity building projects.

Our professional development moves participants from awareness to exploration to applying what they learned in practice. We blend multiple methods and venues: face-to-face workshops; online courses (self-paced and facilitated); study circles; teacher inquiry; virtual communities of practice; and webinars. Our approach considers the context and makes connections to other relevant initiatives and priorities, standards, and data for greatest impact.

World Education's U.S. Division also provides customized technical assistance and coaching aimed at building the capacity of systems, programs, institutions, and individual practitioners. Our technical assistance develops products, processes, and other solutions in consultation with the client. Our coaching services support clients to stay the course in implementing activities and services toward specific goals and objectives.

This catalog includes descriptions of our professional development offerings for 2017-2018. For more information on any of the listings, please contact Leah Peterson at Leah_Peterson@worlded.org or 617-482-9485 x 3740.
Download (PDF, 1.19 MB)