Focus on Basics Volume 8, Issue D: Learning Disabilities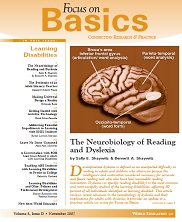 Dyslexia is the most common type of learning disability (LD) so we started there, with recent insights into the neurobiology of dyslexia. In our cover article Drs. Sally and Bennett Shaywitz, Yale University, New Haven, CT, remind us that dyslexia does not resolve over time. Skilled instruction combined with assistive technology and accommodations, however, can level the playing field for adults with dyslexia.

Skilled instructor Marn Frank, Minneapolis, MN, shares not just her approach to teaching students with LD but also the journey she took to arrive at her techniques. Experienced teachers will see themselves in her story; they'll also be heartened to know that many more resources are available now to jumpstart the learning curve for colleagues who are just now beginning their teaching careers (page 8).

States, too, are working hard to ensure that adult basic education (ABE) programs are well equipped to serve students with LD. Across the nation, certain similarities emerge, the greatest being that it takes perseverance to move from policy to truly effective implementation. Read Debbie Reck's account of the long road to Universal Design in Washington state (page 12), Sharon Reynolds and Katrina Seymour's discussion of the use of professional development to support changes in practice in Ohio (page 37), and Patti White's chronology of Arkansas' progress in equipping programs to serve adults with
LD on page 41.

Assistive technology is of great benefit to learners with LD, and the rise in affordable --- or free --- computer programs has made many formerly prohibitive assistive technologies into practically household items. Technology specialist Heidi Silver-Pacuilla, Washington, DC, walks us through the many technologies that may be useful students with LD. Don't forget, she writes on page 16, that teaching how to use the technology is as important as the technology itself.

Discerning whether learners of English for speakers of other languages (ESOL) are learning disabled or having learning difficulties is never easy. Robin Lovrien Schwarz, Wausau, WI, details six categories, from instructional through cultural through phonological issues, that may impede ESOL students' learning; she also suggests ways to address them (page 20). Follow the Carlos Rosario International Charter School's efforts to put these principles into practice as they change they way they serve their adult ESOL students, chronicled by Alice-Ann Menjivar (page 26).

Students with learning disabilities who make the transition from ABE to college need a variety of study and advocacy skills to succeed in higher education. Are ABE programs providing them? Gabrielle Gerhard wonders about this as she shares the stories of three former ABE students with LD who floundered in community college (page 34).

Legal issues always arise in any discussion of learning disabilities. LD advocate Glenn Young spoke with Focus on Basics about the laws and related legal responsibilities of literacy programs that enroll adults with LD (see page 31).

This issue is really just a beginning. The Internet has a wealth of information on all aspects of LD. We've included with almost every article a number of URLs where you can find additional information, and shared other resources, such as the LD electronic discussion list, in the Blackboard, page 42.
Download (PDF, 1.26 MB)