Adult Education and Immigrant Integration: Lessons Learned from the Networks for Integrating New Americans Initiative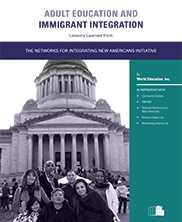 Immigrants' linguistic, economic, and civic integration is a complex issue that is best addressed by networks of organizations that align their efforts around this common goal. This publication features the work and lessons learned by five such local networks as they planned and implemented immigrant integration services and activities with adult education in a central role.

The report highlights the critical role that network development played in enabling community organizations to effectively tap into and coordinate their respective capacities. The national initiative was led by World Education in partnership with Welcoming America, IMPRINT, and the National Partnership for New Americans which together coached the five networks.

The technical assistance was underwritten by the Office of Career, Technical, and Adult Education at the U.S. Department of Education. 2016.
Download (PDF, 24.02 MB)