Integrating Core College and Career Readiness Skills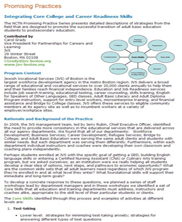 The NCTN Promising Practice Series presents detailed descriptions of strategies from the field that are designed to promote the successful transition of adult basic education students to postsecondary education. This Promising Practice was submitted by Carol Grady, Vice President of Partnerships for Careers and Learning, JVS, Boston, MA.

In order to provide more consistency in the educational services that are delivered across all the departments, Jewish Vocational Services (JVS) planned a series of staff workshops lead by department managers and identified a set of Core Skills that all education and training departments must address, instructors and coaches alike, appropriate to the skill level of their particular students or clients. These were defined as the common skills sets that all adult learners need regardless of which JVS program they're enrolled in and at what level they enter. The Core Skills are the foundational skills that support the students immediate and long-term goals. World Education, 2013.
Download (HTM, 34 KB)