Aspirations Toolkit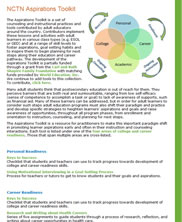 World Education's National College Transition Network received funding from the Carl and Ruth Shapiro Family Foundation to develop and disseminate a toolkit of promising practices that foster adult learners' aspirations along their education and career pathway.
In spite of the growing attention to increase the number of adults with a postsecondary credential, the demand by undereducated adults for college transition programs is far from commensurate with the need. Too many adults think that postsecondary education is not for them. The barriers they think of are both real and imagined, ranging from low self-efficacy (sense of competence to accomplish a task or goal) to affordability. These barriers can be addressed for most adults by adult education programs, their partner agencies and the adult learners themselves. It begins with a paradigm shift of changing one's self-concept and goals.
In order for adult learners to take their next steps successfully, adult education programs must also shift their paradigm and practice and develop specific strategies to heighten learners' aspirations and goals, throughout all program phases, from enrollment and orientation to instruction, counseling, and planning for next steps. Promising practices exist but they have not been documented or compiled into one coherent document that programs could use to good effect at a pre-college transition level.
The Aspirations Toolkit
is a resource for practitioners to make this important paradigm shift in promoting learner aspirations early and often in their instruction and counseling interactions.