Blog: Tech Tips for Teachers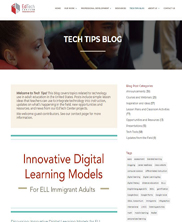 Tech Tips for Teachers
is a blog for adult education teachers and tutors looking for straight-forward help on integrating technology into instruction. The blog includes step-by-step lesson ideas that demonstrate ways to weave technology into lessons without losing sight of the original lesson plan. We hope that our lesson ideas give our readers inspiration to try new things and to find ways to use current technology to aid their teaching.
Some of the blog posts highlight interesting online resources, and others explore different uses of basic software such as the Microsoft Office suite. Most lessons can be adapted to use for classes of different levels, both for English Language Learners, basic skills students, or high school equivalency classes. They also include ideas for a range of tech skill levels, for teachers who are still just getting started using technology in their classrooms and for more sophisticated users looking for interesting new tools to try out. World Education.
See the most recent blog post here!