Through the Lens of Social Justice: Using The Change Agent in Adult Education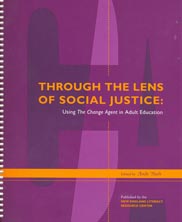 Are you looking for ways to explore social justice themes while building skills and addressing immediate student goals? Here's a resource that will help you bring popular education and social analysis into the contemporary adult education classroom.

Through the Lens of Social Justice is a collection that celebrates The Change Agent's first 10 years of providing social justice resources to adult educators. The book is both a gathering of The Change Agent's best and most timeless pieces and a guide for educators on how to use the journal in their classrooms.

$18.00. Edited by Andy Nash. 200 pp. World Education, 2006.