What can be done to prevent intimate partner violence?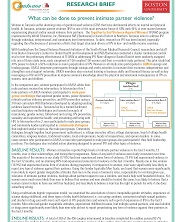 Women in Tanzania suffer alarming rates of gender-based violence (GBV) that have detrimental effects on both mental and physical health. In Tanzania, intimate partner violence (IPV) is one of the most pervasive forms of GBV, with 44% of ever-married women experiencing physical and/or sexual violence from partners.

The Together to End Violence Against Women (TEVAW) program implemented in Karatu District in Northern Tanzania addressed IPV through individual, interpersonal, and community level interventions. World Education's research aims to inform Tanzania's effort to address the pervasive problem of IPV.

Male peer groups and community dialogues appear promising in reducing men's physical, sexual, and emotional violence against women by targeting attitudes, behaviors, and social norms and increasing awareness among men and the communities about the negative consequences of intimate partner violence. While this pilot study demonstrated trends in a positive direction, we recommend that a fully powered study (80%) with adequate sample size be implemented in order to detect statistically significant changes in attitudes and behavior. World Education, Inc./Bantwana Initiative. 2016.
Download (PDF, 292 KB)