Zimbabwe Accelerated Learning Programme: Giving Out-of-School Children a Second Chance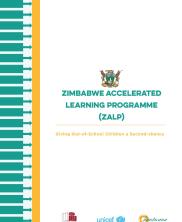 Between 2013 and 2015, World Education's Bantwana Initiative (WEI/B), with support from UNICEF and in partnership with the Ministry of Primary and Secondary Education (MoPSE), piloted a two-year Zimbabwe Accelerated Learning Programme (ZALP). ZALP aimed to identify out-of-school learners and prepare them to 'catch-up' to their peers through accelerated learning approaches, in order to re integrate them into the formal school system.

WEI/B sought to document the ZALP processes and outcomes across the life of the programme to determine whether the piloted model is a sustainable approach for providing second chance education to out-of-school children across Zimbabwe. To this end, extensive project monitoring data was collected and documented throughout the two-year implementation period. In addition, in March 2015, researchers interviewed more than 60 stakeholders, visiting districts and schools where the ZALP programme was being successfully implemented.

This information is presented in this document to offer a narrative and evidence base with regards to how the ZALP model has worked to date. The intention is to share information on the key elements of implementation, its successes and achievements, and to capture promising practices. It outlines lessons learned and provides strategic and forward-looking recommendations for expanding the provision of second chance education in Zimbabwe. World Education/2015.
Download (PDF, 1.54 MB)