Mid-term Evaluation of the Youth Development Program in Jordan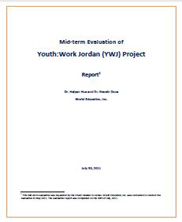 Youth development is one of the most strategic developments a country may face today. It is a cornerstone to nation building and development for the 21st century. A nation's political, social, and economic wellbeing depends on the youth population and its education and economic contribution to the society.

The Youth: Work Jordan (YWJ) project was five-year, community-based project funded by USAID/Jordan to improve the life and job prospects of Jordan's most disadvantaged youth (or youth at risk), ages 15-24. This report presents the results of World Education's mid-term evaluation of the YWJ project in Jordan. The evaluation uses a range of methods, interviews, surveys, and focus groups to address three major areas of interests: 1) current achievements against expected outcomes; 2) clients'
satisfaction and comments; and 3) the current project model and implementation approach.
Download (PDF, 974 KB)