Poster: Examining Jordan's Gender Gap in Student Achievement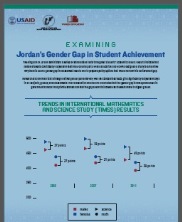 This gender gap poster highlights the difference in performance outcomes between male and female secondary school students in science and math.

This poster was one of six developed from education policy studies created under World Education's Monitoring and Evaluation Partnership Program in Jordan. World Education provided technical support and capacity building for Jordan's National Centre for Human Resource Development (NCHRD) researchers who conducted the policy studies. World Education, Inc., 2014.
Download (PDF, 5.46 MB)