First Aid Training for Village Health Volunteers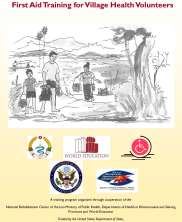 From 1964 through 1973, Laos suffered war on the ground and bombing from the air. More than 2 million tons of bombs were used during the war. Many unexploded cluster bomblets, big bombs, mortar shells, and artillery shells are still buried in the ground and cause hundreds of unexploded ordnance (UXO) accidents every year.

Village Health Volunteer Training provides the resources that community members need for prevention of UXO accidents. The training manual provides information on what UXO are and where they're found, as well as instruction on first aid and long-term care for survivors of UXO accidents, helping to educate and improve care. The training program was organized through cooperation of the National Rehabilitation Center of the Lao Ministry of Public Health, Departments of Health in Khammouane and Sekong Provinces and World Education. World Education, 2013.
Download (PDF, 13.63 MB)