AGSP - Mentoring Resource Guide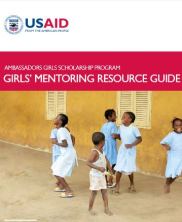 The Africa Education Initiative - AMBASSADORS GIRLS SCHOLARSHIP PROGRAM (AEI-AGSP) Girls' Mentoring Resource Guide was originally conceived to provide activities, information, and ideas to those men and women who provide mentoring to the girls in the program. The Resource Guide targets scholarship recipients from ages 10 and older. It was designed to offer these girls the skills, knowledge, and ability to
navigate everyday life and to prepare for a healthy adulthood. In 2007, however, USAID announced the expansion of the program to reach vulnerable boys with scholarships and mentoring. Much of the content in these lessons is equally applicable to boys. For example, boys have just as great a need as girls to understand human reproductive systems, career questions, or how to resist peer
pressure. The sessions on topics such as gender and the importance of girls education can also help boys by enabling them to play a more positive and supportive role in their families and communities. New supplementary materials are being developed that provide suggestions for adapting these materials for
boys. New modules will address some topics not covered in the Resource Guide or expand on certain key issues included here. Although the activities in the present Resource Guide are certainly adaptable for boys or mixed groups, the original language that refers to participants as girls has been preserved. Finally, while this book is aimed at mentors, it is also a useful tool for those in organizations who are seeking to train mentors or other youth leaders.
Download (PDF, 23.59 MB)
Download Portuguese Version (PDF, 23.29 MB)
Download French Version (PDF, 23.76 MB)