New Mobile App For Nepalese Migrant Workers
July 27, 2017
Every day, hundreds of Nepalis travel to Gulf states for work in hopes of earning enough money to provide a better life for their families. Migrant workers, however, are vulnerable to forced labor, trafficking, and exploitation. Without proper resources or services, many return home in greater debt than before they left, often after enduring dangerous work conditions, trauma, and abuse. Some do not return home at all.

World Education Nepal has launched a mobile app to help migrant workers make informed decisions about foreign employment.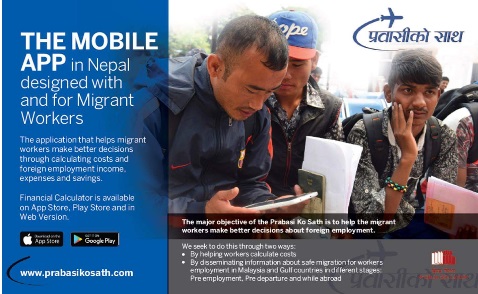 World Education's New Mobile App for Nepalese Migrant Workers

The app, called Prabasi Ko Sath, provides migrant workers with tools to calculate costs, expenses, and savings while working abroad. In addition, it shares resources about safe migration practices during each stage of migration: pre-employment, pre-departure, and living abroad.

It is important for people working abroad to understand how they can identify and prevent exploitative labor. World Education's innovative Prabasi Ko Sath app combines applied technology with critical resources that empower migrant workers to protect themselves from trafficking and exploitation.

You can download the app at www.prabasikosath.com.

Learn more about World Education's work in Nepal.