World Education's Partner, Sidekim Foods, was Awarded a Business Leader Award
November 8, 2017
On October 27th, Sidekim Foods' commitment to upskilling their immigrant workforce was recognized with a Business Leader Award by English Works. The English Works Campaign is a broad coalition of immigrant community leaders, labor unions, business and civic leaders, educators, and advocates across Massachusetts working towards a Commonwealth that provides all residents with a pathway to economic self-sufficiency; ensures a stable, skilled workforce for Massachusetts businesses today and in the future. The Campaign is led by English for New Bostonians. On hand to present the awards was Massachusetts Secretary of Labor and Workforce Development, Rosalin Acosta.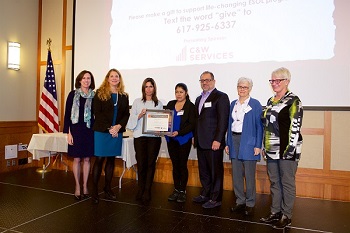 World Education has partnered with Sidekim Foods, a catering company based in Lynn, MA, to teach English to Sidekim employees who have limited English. Sidekim Foods is owned by Peter Mikedis, the son of a Greek immigrant who benefited from English classes after his arrival in the United States. Mikedis allows participating employees to take a two-hour English class twice a week and pays for the time they spend learning. The class content is customized to the English that students use on the job at Sidekim Foods and in their lives as community members.

Watch this video of Peter Mikedis discussing about the benefits of offering English classes to his employee.

Learn more about the program, Sidekim Foods "English for Success!".