New blog highlights long-term impact of education in Nepal
November 15, 2017
The United States Agency for International Development (USAID) recently featured Harka Maya Rumba, a local deputy mayor in Nepal, in a blog: Investing in Women's Education Pays Off.

Harka Maya was a participant in a World Education Nepal women's literacy class in 1997, which launched nearly two decades of partnership with World Education focusing on women's education and economic empowerment. A few months ago when Nepal held its first local elections in 20 years, Harka Maya was elected deputy mayor of Makawanpurgadhi, a municipality in Makwanpur district.

Harka Maya, a member of the marginalized Tamang group in Nepal, never attended school and spent most of her life unable to read or write. The story of her childhood is not an uncommon one in Nepal, but nonformal adult education gave her the hope and skills to pursue a different future.

In 1995, USAID and World Education launched a program to provide basic education to vulnerable and illiterate women in Nepal. Two years later, then 42-year-old Harka Maya joined the program to learn how to read and write. She graduated six months later, empowered by an idea that she could similarly help other women gain basic education and economic skills to improve their lives.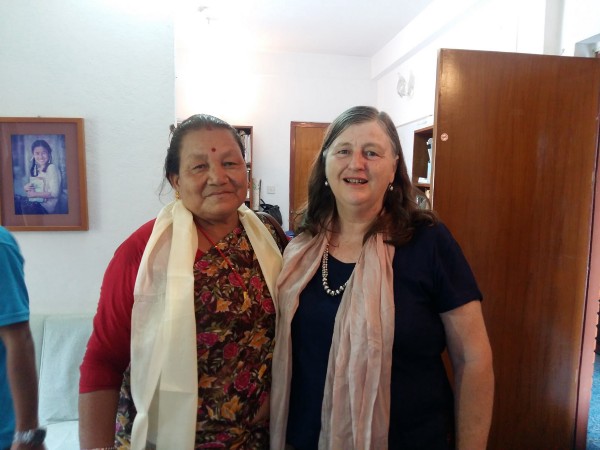 Harka Maya, deputy mayor of Makawanpurgadhi, with Helen Sherpa, World Education Nepal country director.
Harka Maya and her classmates from World Education's program started a women's savings group that Harka Maya went on to transform into the NGO that she runs today: Gramin Mahila Swabalamban Sanstha, which promotes women's financial and literacy skills and fights trafficking and child labor. Harka Maya also spent nearly a decade working with Makwanpur's district education office, USAID, and World Education to improve trafficking prevention systems in Makwanpur.

In May, Harka Maya was elected deputy mayor of Makawanpurgadhi municipality. In her new role, she plans to continue using her skills in capacity building, advocacy, and education to empower women and strengthen her community.

It is evident that investing in women's education pays off.

That's why World Education has made empowering women a core part of its mission since its founding in 1951. World Education believes that education for girls and women is the single most effective way to improve the lives of families and bring economic development to poor communities globally. Learn more about World Education's girls' and women's education projects, and our expertise in Nepal.