Ambassadors highlight World Education's livelihoods development during Laos visit
May 22, 2017
On May 9th, 2017, World Education welcomed U.S. Ambassador Rena Bitter and Australian Ambassador John Williams on a visit of World Education Lao's Resilient Livelihoods for the Poor project in Saravane Province, where the poverty rate is higher than any other province in Laos.

Ambassadors Bitter and Williams met with local participants from the project who are learning agricultural, financial, and education skills to develop resilient livelihoods for their families. The households receive livestock to raise as a sustainable source of income. The project also provides intensive technical support and skills training, including livestock breeding and farming techniques.

Through the development of these microenterprises, World Education empowers the poorest households in the community to establish sustainable livelihoods that last beyond the program, including access to savings and financial planning for the future.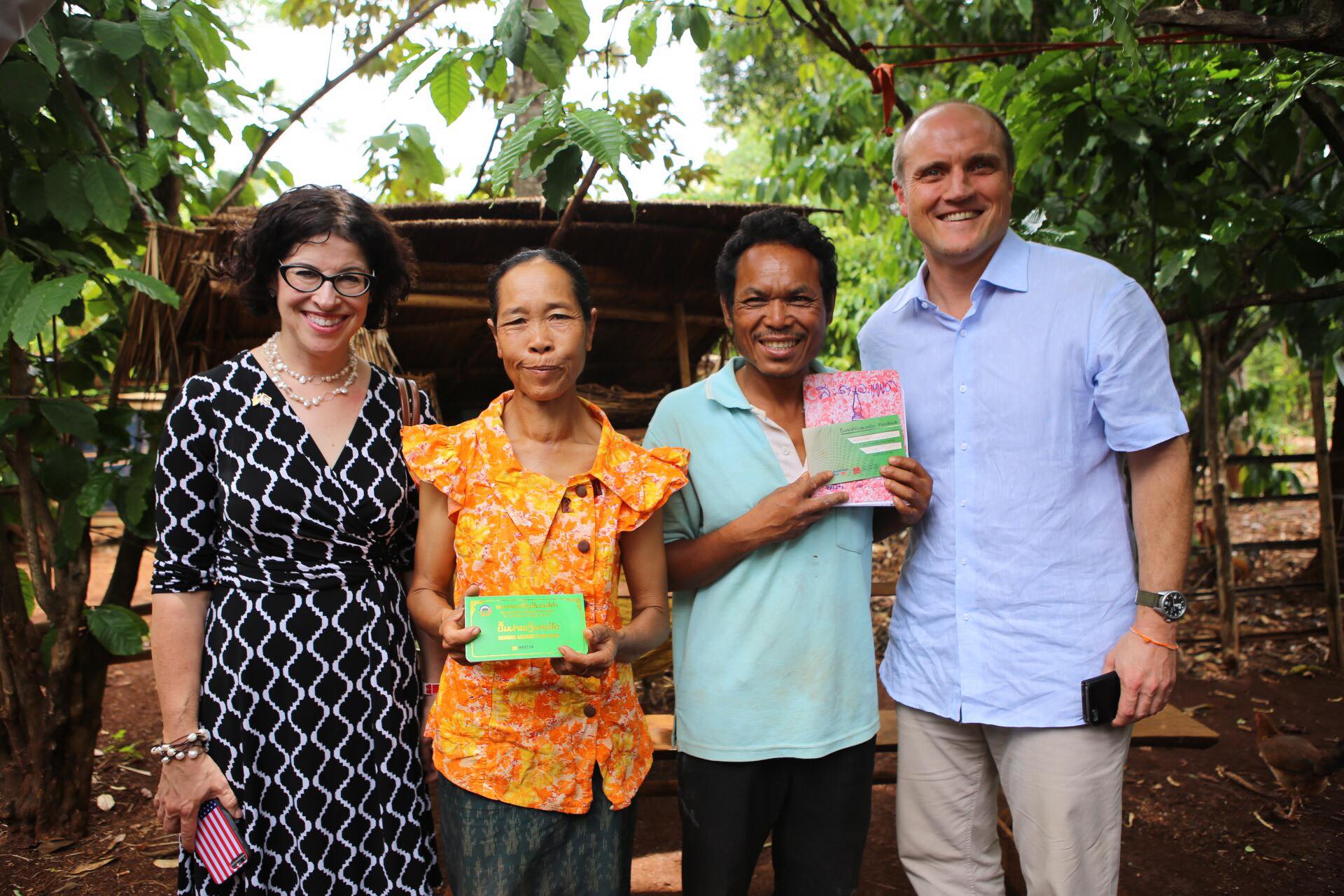 Ambassadors Bitter (far left) and Williams (far right) met with participants of World Education's livelihoods development work in Saravane. Photo via U.S. Embassy Vientiane Facebook.

World Education is committed to working alongside the residents of the Saravane province to foster economic development and reduce poverty. World Education implements the project in partnership with World Education Australia and Village Focus International with funding from the Australian Department of Foreign Affairs and Trade. While this project is not funded by the U.S. government, Ambassador Bitter has engaged with World Education on other projects and wanted to learn more about our work in Saravane, meeting with the Governor of Saravane and other government officials as part of her trip to visit health and education projects in Sekong, Saravane, and Champasak Provinces on May 9-10.

See more photos from the Ambassadors' visit on the World Education Laos Facebook page.
Read more about the Resilient Livelihoods for the Poor project.