World Education brings hope and support to UXO survivors in Laos
May 18, 2017
An article in the Irish Times newspaper, Death from below in the world's most bombed country, documents the struggles and courage of UXO survivors in Laos, and acknowledges World Education's efforts to ensure that survivors get the assistance they need to thrive, despite their tragically unfair circumstances.

Between 1964 and 1973, more bombs were dropped on Laos than any country of its size in all of history. Of the 270 million bombs dropped, 80 million failed to detonate on impact. These dormant bombs, referred to as unexploded ordnance or UXO, continue to harm the people of Laos. Since 1973, 20,000 Laotians have been killed or maimed by unexploded ordnance. It is easy to confuse the bombs with harmless shrapnel or balls, leading people--many of them children--to pick up or attempt to play with the bombs, which then detonate and cause serious injuries and death. People also encounter bombs that spontaneously detonate when stepped on or the ground next to them is disturbed--often while farming.

Many UXO survivors have been injured or disabled to the point where they are no longer able to work or provide for themselves or their families.

One of the people profiled in the Irish Times article is Yeyang Yang, age 31. He was employed as a farmer and had a secondary job burning trash for the town, when a bomb exploded underneath the pile of rubbish he was incinerating. The blast left him gravely injured, with serious facial and body disfigurements. World Education's UXO Victims Assistance program covered the cost of Yang's transport, hospital stay, and medication, as well as the cost of having a family member there to support him.

After Yang returned home from the hospital, he was withdrawn, depressed, and self- conscious. World Education offered Yang further assistance through peer-to-peer survivor support, connecting him with a man who had survived a similarly terrible explosion. Now, Yang goes into communities to tell his story and inspire other survivors.

Khammeung Phommalein, a 25-year-old UXO survivor was also profiled. Phommalein was blinded when he picked up a UXO, thinking it was a harmless piece of scrap metal. Before the accident, he worked in the rice fields and was the primary breadwinner for his household. Since the explosion and his resulting blindness, he can no longer work in the fields. World Education is helping Phommalein explore other livelihoods, one of which is becoming a masseur.

The Irish Times article highlights the many ways that World Education supports UXO survivors and works to prevent further accidents. In addition to victim assistance, World Education provides UXO education and awareness to vulnerable populations, such as children, who are likely to mistake ball-shaped bombs for toys. World Education's victim support and preventive education, coupled with the efforts of other organizations working to find and clear UXO before they detonate, are advancing the prospect of a Laos free from the threat of dormant bombs.

Read the article, Death from below in the world's most bombed country in the Irish Times.
Learn more about World Education's work with UXO survivors and prevention efforts.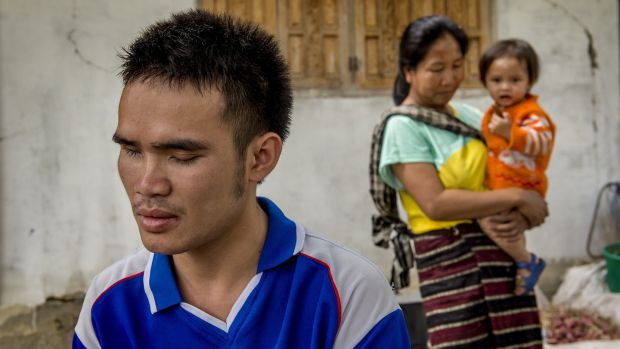 Blinded UXO Survivor Khammeung Phommalein and Family