From Hardship to Hope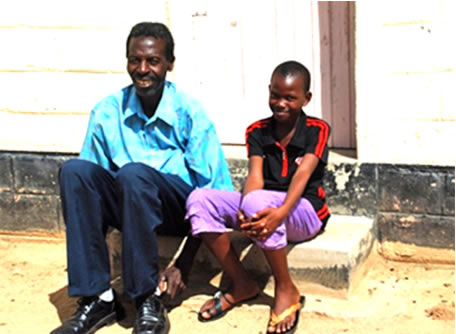 All across Zimbabwe, a generation of children is being raised by their grandparents. This is the distinguishing mark of a country where many children have lost one or both parents. Twelve year-old Zanele's father died when she was just a little girl. With her mother away in the city for months at a time selling whatever she could get her hands on, Zanele's grandfather struggled alone to support a household of fourteen individuals. In tears, he recounted a time when he was unable to provide for his grandchildren, which include five primary school-aged granddaughters, for whom basic school supplies were luxuries.

"I came to school without books or stationery," says Zanele. "It was difficult to learn. Sometimes we only had one textbook to share with the whole class. On occasion Zanele's teachers and schoolmates shared pencils and paper with her, but on days when they had nothing to spare, learning was a challenge.

Millions of orphans and vulnerable children like Zanele are further disadvantaged by a chronically under-funded school system. Schools often lack basic supplies such as textbook, chalk, notebooks, and furniture. Even teachers are underpaid, which encourages absenteeism and strikes. Furthermore, schools have enforced "levies," which are mandatory fees for children to attend school. The levies are the school system's effort to cover the areas not funded by the government.

Although the Zimbabwean Legislation Act specifically says that no child is to be turned away from school for non-payment of fees, the reality is that most families lack the money to pay, and their children are often turned away.

To address this important issue, World Education's Bantwana Initiative has partnered with Umzingwane AIDS Network (UAN), a local nonprofit organization working in rural southern Zimbabwe. With funding from Bantwana's Children First project, UAN provided education block grants to 34 schools in the Umzingwane District.

The grants are a formal agreement between UAN and its partner schools. In exchange for providing schools with textbooks and stationery, the schools waived fees for the most vulnerable students. In Zanele's school, 330 out of 440 students were identified as vulnerable.

This number represents a larger trend in the area of orphaned children with compromised access to education. Bantwana and UAN have taken on the challenge to reach these children. As a result, 8,535 orphans who were otherwise unable to pay for levies, books, and stationery are attending school.

"Now it is easier to learn and do well," Zanele cheerfully reports. "We share two students per textbook. Even the teachers have chalk to write with, unlike the time when they had none and could not put anything on the board for us to copy."

Zanele looks forward to going to school every day and is one of the top students in her class. Thanks to Bantwana and UAN, instead of spending each day worrying about whether she will have the tools she needs to learn, she can focus on her classes and making her grandfather proud.
Related Project:
Bantwana Initiative for Orphans and Vulnerable Children (2005-2012)