Using oral storytelling to improve the quality of teaching and learning in Cambodia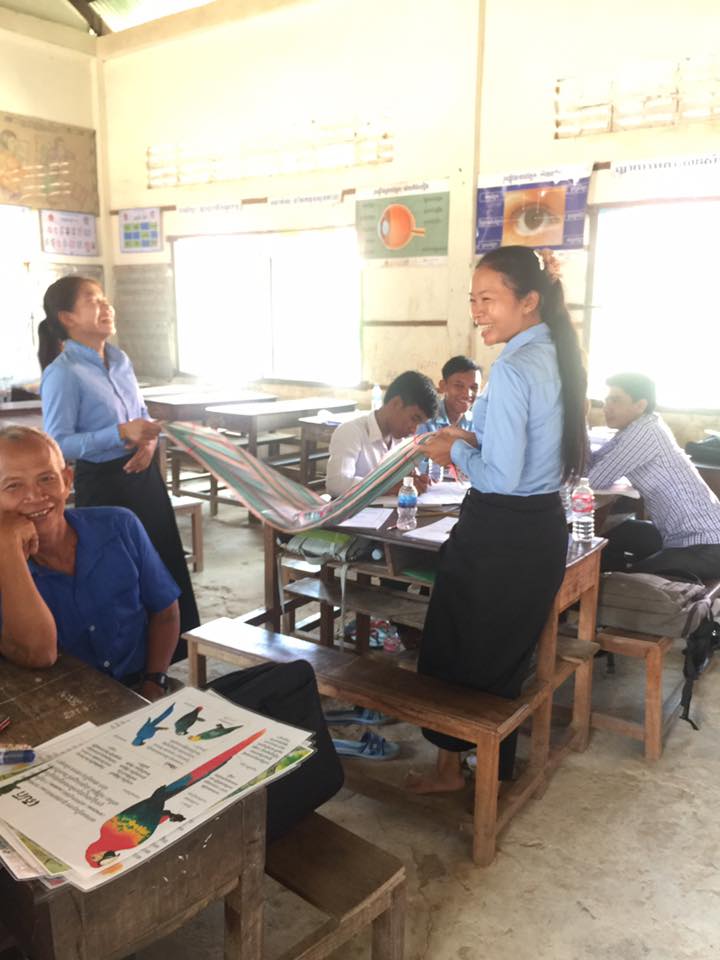 Girls participate in a Food for Education training.

"I want all children in Cambodia to be able to read so that our country can develop," says Mrs. Sivkeang Duong. Mrs Duong is a Khmer language teacher trainer at the Provincial Teacher Training College (PTTC) in Kampong Thom and one of the 23 trainers in World Education's Food For Education (FFE) project.

Oral storytelling is a new skill that Mrs. Duong has acquired and applied in her work: "(I) apply this new skill by demonstrating the different methods of storytelling by using facial gestures, sounds, hand and body gestures to other teachers and my PTTC students."

Mrs. Duong has helped to deliver module 1 of World Education's early literacy course to teachers at 26 rural schools in Kampong Thom and will be co-leading at least 8 teacher trainings this year. "Mrs. Duong is very hardworking and actively participates in trainings," shares a World Education FFE project supervisor.

Mrs. Duong became a trainer 7 years ago to help new teachers reach their potential to teach and learn better and because she loves teaching. "My goal is become an out-standing teacher educator at the PTTC," she shares. The FFE project is enabling Mrs. Duong to strengthen her skills and, through the initiative, World Education will support her as she strives to reach her goal.

In addition to storytelling, the FFE training team has also gained knowledge and skills in child development and psychology, teacher observation, effective facilitation, and games to promote early literacy skills development.

Capacity building remains an important feature of the FFE project as increased knowledge, skills and mindsets among PTTC trainers and government education officers will contribute to greater sustainability and an enabling environment for FFE training modules to be validated for credit for the first time in Cambodia. With this vision in sight, the World Education team will continue to build upon on the strong foundation by observing trainers, evaluating competencies, assessing needs and providing ongoing support.

The Food For Education (FFE) project is a three-year program supported by the U.S. Department of Agriculture to improve food security, expand access to primary education, promote early childhood development and enhance learning outcomes in Cambodia. World Education is training over 3,000 teachers and librarians on early literacy and child development, equipping classrooms with thousands of learning and teaching materials, and building the capacity of government teacher education providers, school leaders and officials to strengthen and support teachers' ongoing professional development at all stages system-wide. World Education is leading the literacy component across Siem Reap, Kampong Thom, and Battambang provinces in Cambodia.



Related Project:
Food for Education Project