Promoting Sustainable Agriculture in East Kalimantan
Mr. Sumadiono works as a teacher and headmaster in a remote village in the Upper Kelay River watershed in Berau Regency, East Kalimantan.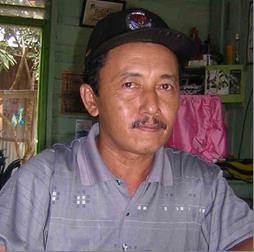 Mr. Sumadiono, a local farmer in Berau Regency, East Kalimantan
To supplement his income and provide an investment for his three children, he also farms. East Kalimantan is home to some of the most biologically diverse and expansive tropical forests remaining in the world. These forests and the wildlife that inhabit them–particularly the endangered Bornean orangutan (pongo pygmaeus) –face numerous threats to their survival, including the unsustainable harvest of resources by poor forest-dwelling communities who lack other options to earn money.

Between 2002 and 2010, World Education implemented a series of projects in East Kalimantan aimed at reducing local communities' dependence on forest products and minimizing environmental destruction—particularly the loss of orangutan habitat—by building capacity in sustainable agriculture.

Through the USAID-funded Farmer Learning and Environmental Stewardship in Indonesia project, World Education trained 4,400 farmers in the Farmer Field School methodology. Trainings focused on intensive farming techniques, forest conservation through the development of non-timber forest products (NTFPs), and strengthening local communities through skills development and conflict management.

In 2006, World Education trained Mr. Sumadiono and 44 other farmers in the cultivation of agarwood–a highly valuable, dark, resinous heartwood from the Aquilaria tree, widely used as incense and in perfumes and medicine. Agarwood, also known as gaharu, forms naturally when resin is released to fight off a fungal infection in the tree. Local species of agarwood have become scarce due to widespread deforestation.

Agarwood can be created by injecting the tree with the fungus that causes the production of resin. The innoculant does not harm the tree and agarwood can be harvested without cutting the tree down. Building alternative livelihoods around NTFPs like agarwood and wild honey cultivation reduces the need to clear forests for timber sales or palm oil production. A healthy forest also provides a safe, natural habitat for the Bornean orangutan.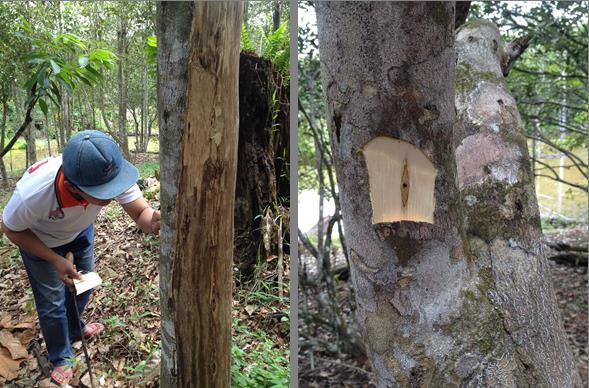 Injecting the Aquilaria trees with fungus to produce agarwood

After the training, Mr. Sumadiono planted and innoculated 72 Aquilaria trees in his garden. In 2013, the injection process was successful and he harvested 2.3 kg of the highest quality (Super King) agarwood, which he sold to a local trader for IDR 26 million/kg (approximately $2,600/kg at the time). He received less for his second harvest, as the wood was less mature and of lower quality. However, working with the local trader, he will wait until the wood is mature to harvest next time. He is confident his subsequent harvests will sell for a higher price.

In addition to Mr. Sumadiono's success, a World Education survey showed that household incomes in six villages in Kelay increased over the years of the project by an average of 240 percent. Agricultural production was an important factor in this increase. Mr. Sumadiono is pleased to have a sustainable, alternative income source that helps conserve the local forest and protect the Bornean orangutan.