Meet Ms. Mao Rin
Today, Mao Rin, 41, received a certificate for completing a Good Return Savings course to help manage her small loan. Before her loan, Rin struggled to find money for health care, schooling for her children, and fertiliser for the family's rice crop.

A mother of 3, Rin completed grade 4 of her primary school education before dropping out, and says that she can "read and write a little". Her eldest child, now 22, was forced to drop out of school in grade 7 due to health issues after an illness affected his hearing. Her second child was also forced to drop out of school after grade 7 so that she could help supplement the family's income by working at a garment factory.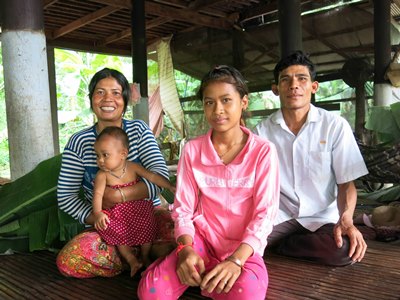 Together with her husband, Rin relies on the success of her rice crop and small well boring business for income. In the past the rice crop hasn't always been successful, and the family struggled to afford the costly repairs of the drilling equipment. However, with the help of a small loan, Rin and her husband were able to purchase fertiliser for their rice crop, which produced a higher yield than before. They were also able to afford the cost of the fuel and maintenance associated with their machinery, which can earn the family as much as $200USD per well.

Thanks to the Savings course provided by the Good Return program, Rin said that she now understands the differences between income and expenses, and realises the importance of saving money for things that she needs or for future health emergencies. Rin now has high hopes for her third child, currently 13 years old and studying in grade 6, that she will be able to continue her studies due to the family's extra income and improved financial stability.

Good Return provides small loans and financial literacy to help the poor in Cambodia and the Asia Pacific change their own lives. By empowering individuals, families, and communities to build their own capacity, Good Return helps to build independence and release human potential.
Related Project:
Good Return: Improving Livelihoods in Cambodia (2012-2016)